Single Arm Slab Polish Machine Pneumatic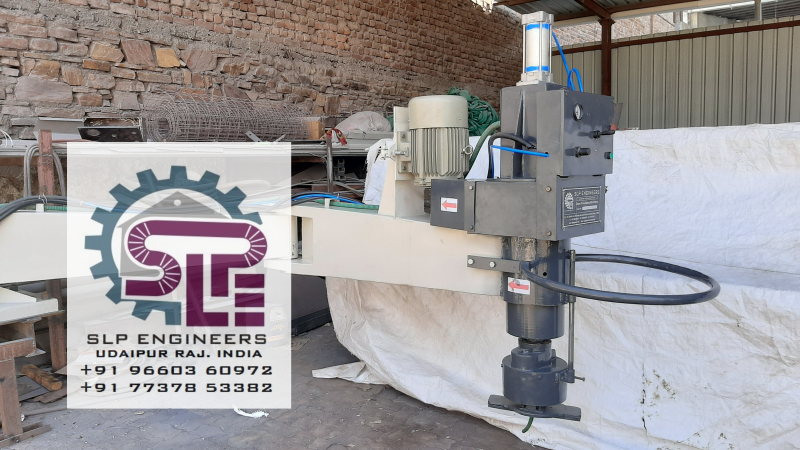 Price :
1.25 Lac - 1.50 Lac
/ 1
MOQ : 1 Piece
Business Type
Manufacturer, Exporter, Supplier
Brand Name
SLP
Driven Type
Electric
Automatic Grade
Manual
Click to view more
Preferred Buyer From
| | |
| --- | --- |
| Location | Anywhere in India |
Product Details
Application
Slab Polish MAchine
Certification
ISO 9001:2008
Cutting Linear Feed
100 Mm Up Down
Maximum Working Dimensions
3000*1500 mm
Overall Dimensions
3600* 1500 mm
Design and Construction: The machine has an arm-type design, where a rotating arm extends over the surface of the stone slab. It is built with a sturdy metal frame and components to ensure stability and durability during operation. The arm mechanism allows the polishing head to cover a wide area of the stone slab uniformly.

Pneumatic System: The machine is equipped with an air cylinder pressurized by compressed air. This pneumatic system is responsible for providing the force required to press the polishing head against the stone surface with the desired pressure. The pneumatic system ensures consistent and controlled polishing pressure across the entire slab.

Polishing Head and Attachments: At the end of the arm, there is a polishing head that holds multiple polishing attachments, such as diamond abrasive pads or polishing discs. The size and configuration of the polishing head may vary, depending on the manufacturer's design.

Main Motor: The main motor of the machine is a 7.5 hp electric motor, running at 50 Hz frequency. This powerful motor drives the rotation of the polishing head, enabling efficient and effective polishing.

Water Feed System: To cool down the stone surface and the polishing attachments during operation, the machine features a water feed system. The water is continuously sprayed onto the stone slab as the polishing head moves, preventing overheating and providing a better finish.

Manual Handle: The machine is designed to be operated by a single person. The operator controls the movement of the polishing arm using a manual handle. The manual handle allows for precise control over the polishing process, making it easy to achieve the desired results.

Easy Operation: The machine is designed to be user-friendly and straightforward to operate. With simple controls and ergonomic design, the operator can easily maneuver the arm to cover the entire slab surface evenly.

Safety Features: Safety is a crucial aspect of any machine operation. The machine may include safety features such as emergency stops and safety guards to ensure the operator's well-being during use.
This arm-type pneumatic stone slab polishing machine offers significant advantages in terms of efficiency, speed, and uniformity of polishing compared to manual methods. It is commonly used in stone fabrication workshops and factories to polish large stone slabs quickly and with consistent quality. Proper training and adherence to safety guidelines are essential for safe and effective operation.
Looking for "
Single Arm Slab Polish Machine Pneumatic

" ?
1